You can test the RemoteXpert for 30 days. Fill out the form and we will provide you with your test access at short notice. We look forward to your inquiry.
Offer your customers modern first-level support
RemoteXpert is a remote maintenance service tool that enables communication between your support team and your customers. Your customers can easily access modern support and solve problems and clarify questions with their mobile devices.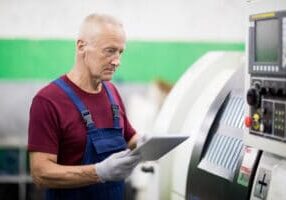 Incidentally, your customers will automatically find the right expert - simply by scanning a QR code on the machine to be connected directly to the right expert. Without any registration or effort for your customers.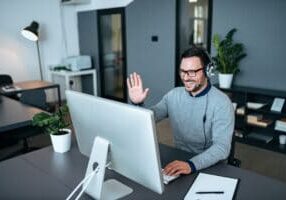 In the video call, the customer now receives instructions and assistance to solve problems themselves - always under the professional supervision of your expert. Tools such as live drawing mode, instant pointer, or chat function during the call are helpful.
After the call, your experts manage the support cases directly in the application - conveniently from the workplace.
This is how modern support works!
Your advantages with RemoteXpert

As a manufacturer of machines, it is important to them that customers are always satisfied and can rely on the best service on their part.


For technicians & service providers
Give exactly the support your customers need. The right contact person can solve the problem together with the customer at an unprecedented speed of reaction; without having to be on site. Problem lösen


Do you have a machine in operation and every second of downtime causes costs?
RemoteXpert gives you direct access to manufacturer support.
With RemoteXpert, your customers always have the opportunity to get in touch with the right expert. Immediately - online - worldwide
Your service team not only increases the quality of your customer service - you and your customers save valuable time & resources, since simple problems and maintenance tasks can be dealt with quickly and personally.
With RemoteXpert you always have the perfect expert at your side!
RemoteXpert is available on all common devices.
Mobile phones, tablets, PC & Mac.
On the web or as an app.



The core of RemoteExpert is unique: Download the app - scan the code on the system - and come out with me!
The fastest solution for the customer and a great one for the service provider relief
– Dr. Benno Schmitzer - Managing Director KURZ DIGITAL

Customer service quality

With RemoteXpert you offer your customers the opportunity to get help immediately
-
Exactly for the customer and his question
Minimize plant downtimes

The immediate help with personal online customer service avoids unnecessary trips to the customer and service assignments can be prepared more efficiently Immediate help with personal online customer service means that machines can be put back into operation quickly, thus minimizing system downtimes

Save travel expenses

The immediate help with personal online customer service avoids unnecessary trips to the customer and service assignments can be prepared more efficiently vermieden